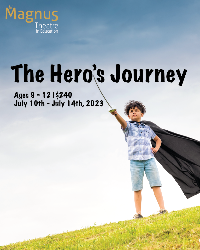 Summer Intermediate Camp (Ages 9-12) - the Hero's Journey
When
Occurs on Monday July 10 2023
All Day Event
Venue
Event Notes
×
Band together to go on an epic quest of theatre of your own creation! You'll learn all about the classic story of 'The Heroes Journey', creating your own character and developing the tools you will need to bring this exciting quest to life on stage.
· Learn how we tell stories and the characters who inspire them.
· Develop your own character and embark on an epic quest!
· Create props and costumes to help bring your character to life.
· Everything comes together with a showcase performance of our own telling of the Hero's Journey for friends and family.
Information for you to know:
· July 10 - July 14 from 9AM - 4PM
· Showcase Performances on Friday July 14 @ 3:30PM
· Location - Trinity United Church, 30 Algoma St S, Thunder Bay, ON P7B 3A8