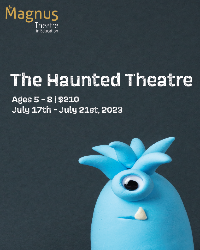 Summer Junior Camp (Ages 5-8) - the Haunted Theatre
When
Occurs on Monday July 17 2023
All Day Event
Venue
Event Notes
×
Explore spooky tales and supernatural goings on as we dive into the world of The Haunted Theatre. We'll use our imaginations to create exciting original stories, the power of our bodies and voices to inspire a spooky mood and atmosphere, all while grounding our work through fun theatre games and team building activities.
· Use your body and work with others to bring the world of monsters and haunted houses to life.
· Create a prop or costume to bring your own unique monster to life on stage.
· Use your voice and live sound effects to create spooky soundscapes.
· We wrap everything up on the final day with a performance of the work we have created.
Information for you to know:
· July 17 - July 21 from 9AM - 4PM
· Showcase Performances on Friday July 21 @ 3:30PM
· Location - Trinity United Church, 30 Algoma St S, Thunder Bay, ON P7B 3A8