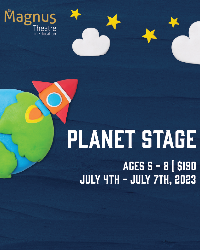 Summer Junior Camp (Ages 5-8) - Planet Stage
When
Occurs on Tuesday July 4 2023
All Day Event
Venue
Event Notes
×
Leave Earth behind and blast off to Planet Stage! Explore the worlds of aliens and extra-terrestrial life as we practice imagination exercises, story creation, and physical theatre.
· Explore physicality and movement as we delve into the outer reaches of space.
· Create a costume, prop, or mask to bring an extra-terrestrial to life.
· Use your voice and music to explore the sights and sounds of different planets.
· A showcase performance of our work on the final day.
Information for you to know:
· July 4 - July 7 from 9AM - 4PM
· Showcase Performances on Friday July 7 @ 3:30PM
· Location - Trinity United Church, 30 Algoma St S, Thunder Bay, ON P7B 3A8